Trade-Up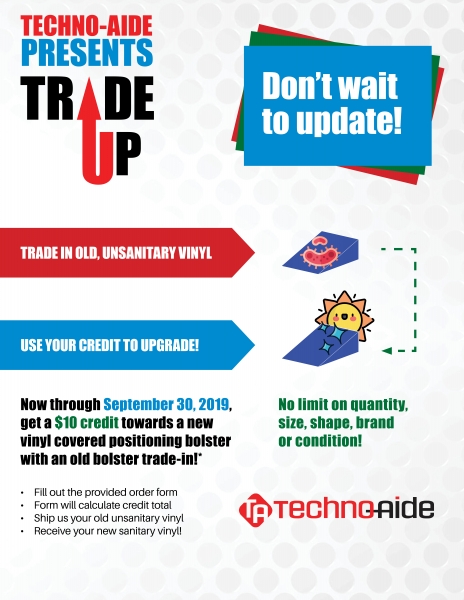 SAFETY BY CHOICE, NOT BY CHANCE!
Get a $10 credit for each "Traded-Up" vinyl bolster. Any shape, any size, any brand!
Shop our bolster collection now!
Please email all order forms to Orders@Techno-Aide.com
Download the Trade-Up Order Form Here
Download the Trade-Up Promo Flyer Here
Download the Bolsters Digital Catalog Here
*Techno-Aide "Trade Up" program is a limited time promotion. Techno-Aide reserves the right to discontinue any promotion, price, or cancel any order at any time. Trade Up program is a 1 for 1 (one item for one item) credit program. One item returned provides one single credit towards one single product. Cannot be combined with any other offer. Multiple credits cannot be combined towards one single item. Valid on Techno-Aide vinyl bolsters only. No cash value. No credits will be given to customers without a complete and finalized order form. Credits issued as a rebate once "trade-in" products have been received. Offer expires 20 business days from delivery date of new products. Valid through September 30, 2019.